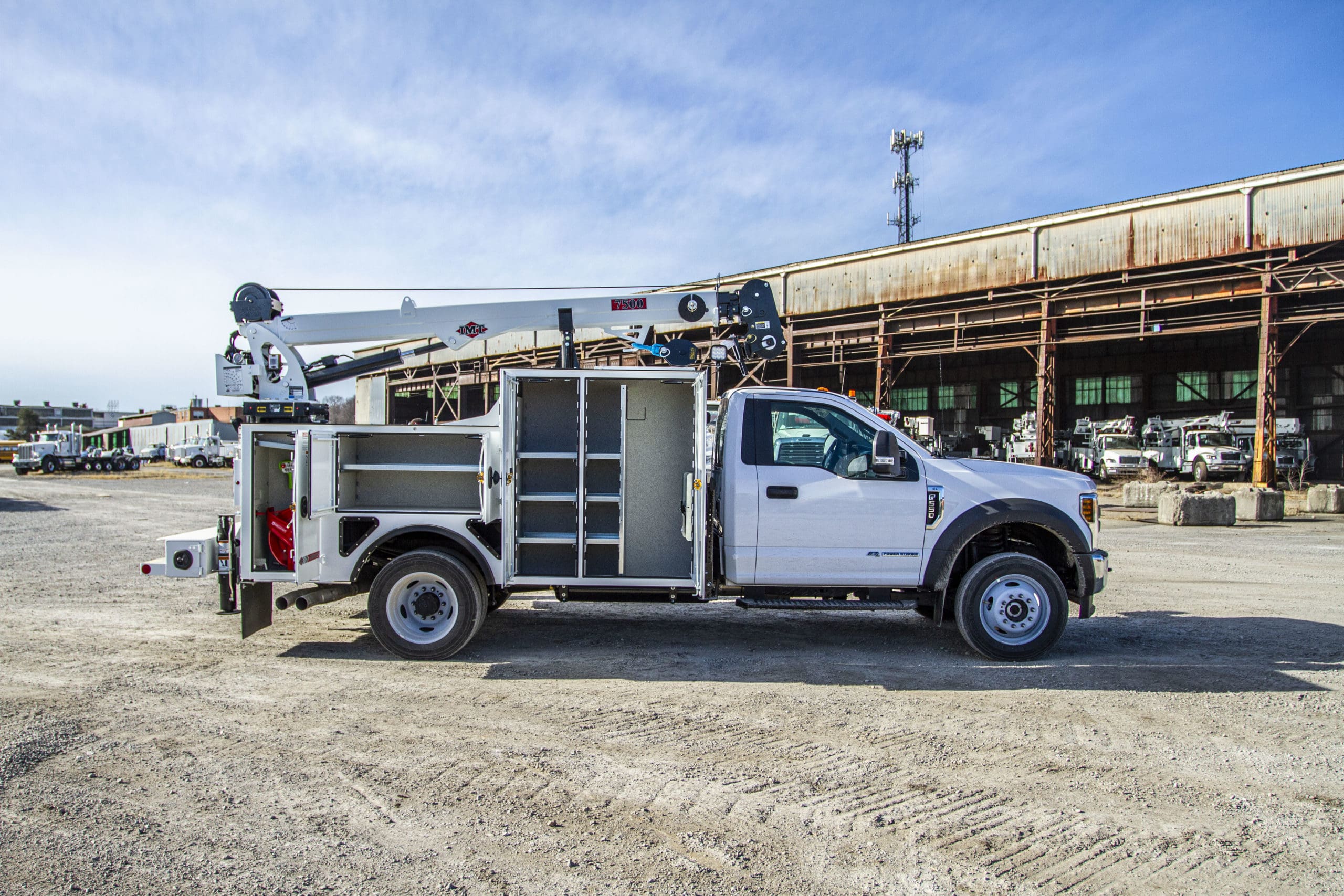 What do you do when a critical piece of machinery breaks down at a job site and work comes to a complete standstill? You have two options. You can arrange for the equipment to be hauled away to a service center, with considerable downtime expense, to have it repaired and returned. Or you can call in a mechanics truck that does the repair work onsite and gets it up and running in considerably less time.
Big operations – such as mining, highway support, rail work, and civic utility – usually own their own fleet of service or mechanics trucks. Independent mechanics often run them too, offering mobile repair to smaller businesses that need the help.
Service bodies have to be kitted out with all the tools and replacement parts needed to repair broken machinery that cannot be easily transported. This means the storage configuration of these vehicles is extremely important.
Below, we have listed 10 key tips to help operators organize their mechanics trucks to make the most of their available space. This can help improve efficiency, increase productivity, and boost their earning potential by being able to service more customers on a daily and weekly basis.
1. Start From Scratch
If your truck has not been organized for some time, the first thing to do is empty the vehicle completely. Lay all the tools down where you can see them. This will help you identify how they're going to fit together, shape and size-wise, and which tool needs to be near which for easy retrieval. You will be able to decide if you need extra shelving or any extra outfitting. You may also see items that don't need to be placed back in the vehicle, so it's a great opportunity to de-clutter as well as organize. 
2. Grade Tools by Usage
The tools you use the most should be close to access points. Lesser used ones can go toward the back.  
3. Throw Away Factory Boxes
Keeping tools in the boxes they were packaged in does preserve their sense of newness. But when outfitting a service or mechanics truck, they unnecessarily take up space as their shapes are irregular. Use custom storage boxes instead, with adjustable shelves and dividers. They come in many sizes and can be configured to suit your unique needs.
4. Reduce Possibility of Damage
Store heavy, bulky equipment, like a power generator for example, in the lower compartments or closer to the floor to avoid damage to any lighter tools that may be stored in the vicinity. Overhead racks also free up more space to stow and organize smaller items. From there on, load from bottom to top, separating tools so they can be easily found without having to sift and search while a job is in progress.
5. Consider Cab Storage Spaces
Most cabs offer some extra storage space, such as backs of seats, under the seats, and doors. Take advantage of these by using magnetized strips to hang metal tools and cab organizers with divided pockets. Along with electronic devices, paperwork should also be stored in the front.
6. Expand Storage With an Underbody Toolbox
Need more space in the truck bed? Instead of overloading in an impractical manner, add an underbody toolbox to store the extra stuff.
7. Use Anchor Points
Make sure everything stays in place when the truck is moving by anchoring equipment using bungee ropes.
8. Get Enough Lighting
No matter how effectively you organize your truck, it won't stay that way for long if you don't have sufficient lighting to see inside. Extra lighting solutions are even more important during winter when natural daylight is in short supply.
9. Safety First
You never know where a service call will take you. For increased safety on the road, your vehicle should have features like back-up cameras, spot mirrors, parking sensors, and partitions.
10. Look Professional 
The look of a well-organized truck instills confidence in customers. So not only will you be making the job easier for yourself, your truck operation may build a reputation for efficiency just by how professional the inside of it is kitted out.
Looking for new or used service trucks or mechanics trucks? Considering rental? Contact us at Custom Truck One Source.
We're America's first true single-source provider of specialized truck and heavy equipment solutions and we're standing by to help you!
Call us at 844-282-1838 or email us at [email protected].