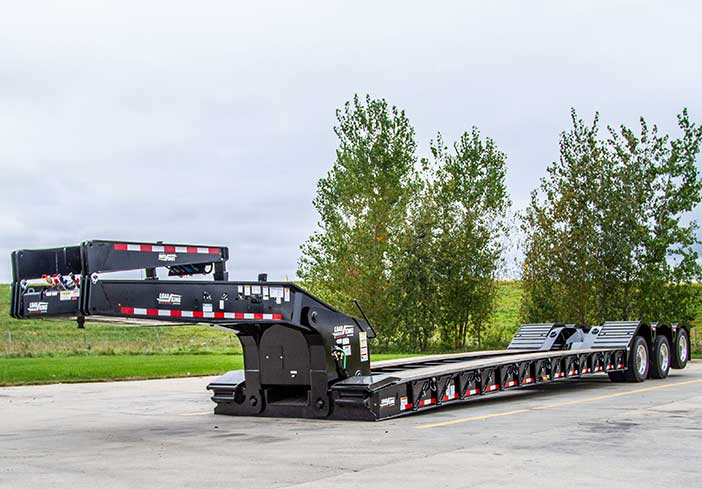 Lowboy Trailers for Sale
If you're looking for more flexibility in the amount of heavy machinery you can transport without additional permits, our lowboy trailers might be what your business needs. At Custom Truck One Source, we provide numerous models and lengths of lowboy trailers to give you the equipment to enhance how your company operates.
What Is a Lowboy Trailer?
A lowboy trailer rides significantly lower than standard trailers, usually sitting about 18 inches above the ground. These trailers are fitted with two drops in the deck, one right behind the gooseneck and the second before the wheels. These drops in the bed allow these trailer types to carry large, heavy machinery with heights up to around 12 feet while staying within height restrictions.
Lowboy trailers offer versatile use for contractors across various industries, including agriculture, oil and gas and construction. They often haul large equipment, such as excavators and bulldozers, requiring large weight capacities. These trailers can be as long as nearly 30 feet, offering load capacities anywhere from 40,000 to 80,000 pounds based on their axle configuration.
Types of Lowboy Trailers You Can Find
There are many lowboy trailer types available, meaning you have many options for finding the one perfect for you. If you need help selecting yours, our professionals can answer your questions and will point you in the right direction of a trailer that checks all your boxes.
The three main types of lowboy trailers include:
Fixed Gooseneck Lowboy: Referred to as an FGN, this type of trailer is lightweight and has a more extended deck that offers convenient rear loading with its drop ramps.
Fixed Neck Lowboy: This lightest lowboy option with a permanent neck may pose some difficulty when loading from the front. 
Removable Gooseneck Lowboy: Also known as an RGN, this lowboy comes with a shorter deck and detachable gooseneck, making it easy to drive, roll, push or pull equipment onto the bed.
Reasons to Shop for Lowboy Trailers at Custom Truck One Source
Custom Truck One Source is the leading provider of specialized truck equipment that will enhance your efficiency on the job. With our world-class team of technicians on your side, you'll receive competitive pricing and a customer support experience you won't find anywhere else.
When you partner with Custom Truck One Source for your new or used lowboy trailer, you'll get:
In-house financing: We work hard to ensure that we can create affordable payment structures to meet the demands of all budget types.
Far-reaching locations: With our headquarters in Kansas City, Missouri, we have grown to operate 37+ sites across North America while providing additional assistance through another 470 service bays. 
A continuous support center: We offer our customers attentive support through a 24/7 call-in center that has proven to resolve 60% of all customer service issues.
Comprehensive services: We strive to become your one-stop shop by providing a complete array of services, including new and used equipment sales and rentals, a repair shop, equipment installation, and customization services.
Unrivaled experience: For more than 30 years, we have been the go-to heavy machinery and specialized truck provider for the telecom, forestry, and rail industries.
Submit Our Online Quote Form to Learn More
Custom Truck One Source is dedicated to providing the high-level services your business needs to get the job done right. You can learn more about our lowboy trailers for sale by requesting your quote through our online form. For any unanswered questions you still have, contact our technicians, who are more than happy to help you!